I was sickened and angry this morning to wake up to this news report regarding the harsh sentence imposed by the Iranian courts on the brilliant Iranian filmmaker Jafar Panahi ("The White Balloon", "The Circle", "Crimson Gold", "Offside").
Having followed this story since his incarceration last Spring and his subsequent hunger strike and temporary release, it is nonetheless shocking to see how they've "thrown the book" at him with not only a lengthy jail sentence but a mandate to stop writing and directing films for 20 years!
Iran jails helmer Panahi for 6 years
Opposition filmmaker Rasulov also sentenced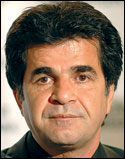 Panahi
TEHRAN, Iran -- -Iran has sentenced two prominent opposition filmmakers to six years in jail, each on vague charges of working against the ruling system, their lawyers said Monday.
One of the two, filmmaker and opposition supporter Jafar Panahi, has won awards at the Cannes and Berlin film festivals. Several of his films have been banned in Iran.
He has also been banned from shooting films or scriptwriting for 20 years, said his lawyer, Farideh Qeirat, who added that she will appeal the unusually heavy sentence.
"Panahi has been sentenced to six years in jail on charges of conspiring against the (ruling) system and is denied his professional rights including shooting films and scriptwriting," the semi-official ISNA news agency quoted Qeirat as saying.
"He has also been barred from leaving the country for 20 years and from doing any interviews with domestic or foreign media during this period," she added.
Berlin Film Festival director Dieter Kosslick had invited Panahi to join the 2011 competition jury in February.
He was among industryites including Robert Redford, Steven Spielberg, Michael Moore and Oliver Stone, who expressed outrage over Panahi's arrest on March 1.
In May the Cannes fest drew further attention to Panahi's plight, who was then on hunger strike in jail, by inviting him to sit on its jury. He was freed on bail later that month.
Mohammad Rasulov, another opposition filmmaker, received a six-year jail term, said his lawyer, Iman Mirzazadeh. Mirzazadeh said he will also appeal the sentence.
Both supported the opposition in Iran's disputed presidential election last June. Reformists say opposition leader Mir Hossein Mousavi was the rightful winner and that President Mahmoud Ahmadinejad won through vote fraud.
I met Panahi briefly in Tehran in 2009, prior to the disputed elections there. Even then he was aggrieved and rueful about his status - celebrated abroad and persecuted at home - a man who loved his country and didn't want to leave it but found himself in exile at home and wondering if he would ever be able to work again.
Please join your voice to the chorus worldwide that cannot stand silent in the face of this outrageous injustice. If there is a vehicle to coordinate this protest, please send us the link so we can promote it here.
william